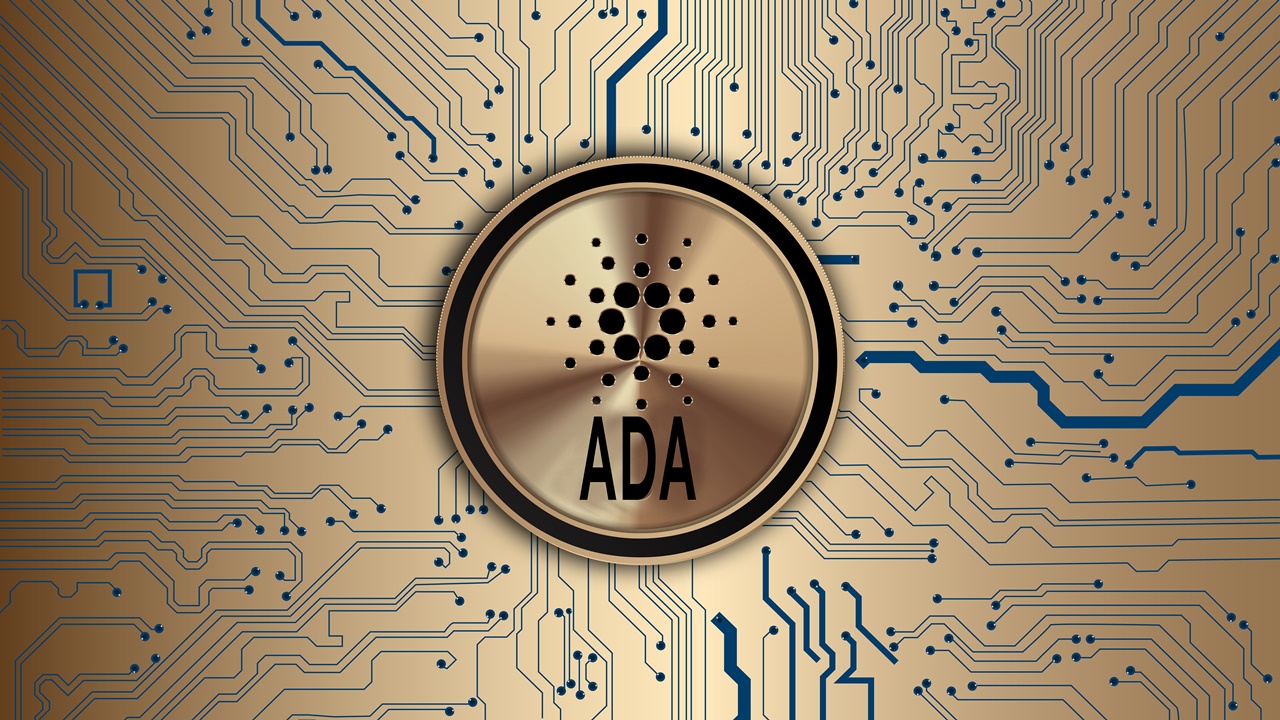 Overview
If you are just getting familiar with the crypto space and have come across Cardano ADA for the first time, then you must be wondering what Cardano is and why does it matter. In this Cardano ADA review, you will learn about this blockchain and its cryptocurrency and why it has become such a big deal in the crypto space.
What is Cardano ADA?
Cardano ADA is a digital currency like Bitcoin that anyone can purchase or trade on centralized or decentralized exchanges. You can purchase or trade ADA by signing up on cryptocurrency exchanges like Binance, Swissborg,and ByBit. US citizens can get their hands on ADA by signing up on Kraken as the formerly mentioned exchanges are not currently offering their services in the United States.
Cardano is a decentralized third-generation blockchain platform that uses a proof-of-stake consensus mechanism to validate transactions. It shares a lot of characteristics with other successful blockchains like Ethereum and supports advanced technologies like virtual machines, smart contracts, and Dapps development.
Peer-Reviewed Scientific Research
Cardano is the first blockchain platform that does not rely on a whitepaper and instead uses peer-review scientific research to make improvements to the blockchain. It is one of the main reasons why Cardano is so popular and considered one of the best blockchain platforms out there. Any changes to be made on the Cardano blockchain are sent to the experts in that specific industry and implemented only after positive feedback.
Cardano is using peer-reviewed research to solve some of the biggest issues in the crypto space, including scalability, interoperability, and sustainability.
The Cardano Project and History
Cardano was founded by Charles Hoskinson (co-founder of Ethereum) and was first introduced in 2015. The project first went public in 2017 and soon became one of the top cryptocurrencies in the world. The cryptocurrency is currently backed and operated by the following three organizations:
Cardano Foundation
IOHK
Emurgo
Cardano Foundation
Cardano Foundationis a Switzerland-based non-profit organization established for the Cardano community and ecosystem. It is helping the project move forward by working with the government and other regulatory bodies. It also reaches out to enterprises to form strategic partnerships and collaborate with other open-source projects.
IOHK
IOHK is an engineering company that was also founded by Charles Hoskinson soon after he left the Ethereum project. IOHK is dedicated to improving peer-to-peer transactions and aims to provide financial services to over three billion people who do not have any access to them. Over time IOHK has helped build and maintain Cardano and continues to do so.
Emurgo
Emurgo is a company that is designed specifically to support third-party companies and businesses that want to adopt Cardano ADA and implement it in different aspects of their business.
What Are the Use Cases for Cardano ADA?
Improving Global Economic System
The Cardano blockchain is one of the most advanced blockchains out there, and the developers have some big goals for this project. It seeks to revamp the world economic system to make it more accessible to everyone and restore trust. With Cardano, people will be able to make international transactions in a secure, transparent, and sustainable way which will make it easier for many people to conduct business.
Providing Financial Services to World's Unbanked Population
Cardano also aims to empower the world's unbanked population and give them access to necessary financial services. They are currently working on several projects in Africa and other underdeveloped countries to achieve this goal and are making gradual progress.
Improved Dapp Sector
Developers at Cardano are also working on stabilizing the Dapp sector. They are focusing on security and sustainability and are building an app platform that is much more efficient than its competitors. Cardano is planning to build an improved and sustainable ecosystem that is not only ideal for the community but also for third parties seeking integration.
How Cardano (ADA) Works?
Cardano is a third-generation blockchain that offers advanced smart contracts and a two-layer architecture that makes it fast and secure. With these advancements, Cardano is tackling some of the biggest challenges faced in the blockchain industry, including interoperability, scalability, and sustainability. Here is how Cardano is making improvements in the following areas with its innovative design principles and efficient engineering practices.
Scalability
When it comes to scalability, Cardano is working on remarkable things and plans to implement technologies that will help the Cardano network process more transactions than any other blockchain network.
When Cardano was first introduced, it was only able to process ten transactions per second. However, Charles Hoskinson recently mentioned that when Cardano has finished development , it will be able to process around 1 million transactions per second. This will not only speed up the process but will also decrease transfer fees greatly.
Interoperability
Cardano might be an independent network, but it does not aim to isolate itself from everything else. There are thousands of different cryptocurrencies out there that run on different blockchains, and all of them have something unique to offer. Some even have an ecosystem of their own in which Cardano can play an important role.
Cardano is working on new methods to enable interoperability across different blockchain networks. This includes:
System upgrade protocols
Governance Models
Feature Sets
Sustainability
Cardano is a blockchain that has been under development for years, and thanks to peer-reviewed research, it is aiming to build a platform that would sustain for decades. The developers at Cardano are taking their time in order to build a future blockchain. It is also designed in a way so that improvements and upgrades can be made to it easily over time.
What is ADA Token?
ADA is the native token of the Cardano blockchain and is named after the 19th-century mathematician Ada Lovelace. It is a digital token that can be used by anyone to exchange funds without having to rely on any third party. Every transaction made with ADA token is stored on the Cardano blockchain and cannot be altered.
ADA token is also used for validating transactions and minting ADA to keep the blockchain going. The Cardano blockchain uses the proof-of-stake consensus mechanism in which users can delegate their ADA to a stake pool to earn rewards by validating transactions.
As the Cardano blockchain is still under the developing phase and consistently evolving, the ADA token would have many more use cases in the future.
What is Proof-of-Stake?
Proof-of-stake is a consensus mechanism used by blockchains in which the transactions are validated not through mining but staking. Most blockchains out there use two different methods to verify transactions i.e.
Proof-of-Work
Proof-of-Stake
The proof-of-work consensus mechanism uses mining in which brand new tokens are rewarded to the users for validating transactions by solving complex mathematical equations. This uses a lot of computational power and requires specific hardware known as mining rigs.
On the other hand, the proof-of-stake consensus mechanism validates transactions with stake pools. ADA holders can delegate their tokens to a specific pool, and whenever that pool validates a transaction, everyone in the pool receives a reward. The transactions cannot be tampered with or changed as the assets staked in the pool are used as collateral for the validation process.
The Proof-of-stake consensus mechanism uses very little energy and is much more environment-friendly than the proof-of-work protocol.
Cardano ADA Price Predictions
ADA is one of the biggest cryptocurrencies in the world and has attracted billions of dollars in investment from all across the world. It has seen a max market capitalization of over $70 billion in the recent past and is considered one of the most solid projects for long-term investment.
ADA is also one of the best performing cryptocurrencies and has delivered promising gains overtime.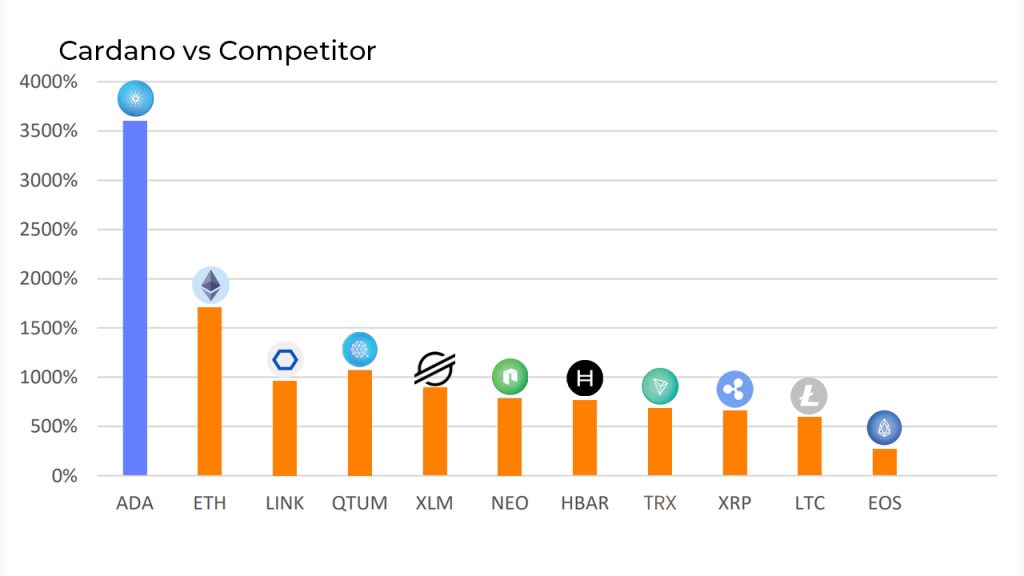 Cardano ADA Price Predictions for 2025
Predicting the price of a cryptocurrency is never easy because they are highly volatile, and their price depends on several internal and external factors. Cardano is an important project in the blockchain world, and it is expected to perform well in the long term.
According to Wallstreet Investor's report, Cardano price predictions for 2025 are as follow:
Will Cardano Reach $10?
Whether Cardano will hit $10 or not has always been a hot debate in the crypto space. The above-mentioned price analysis by Wallstreet investors shows that ADA can touch the $10 mark by the end of 2025 but let us look at what $10 really means for ADA.
When Cardano's price was $1, its market cap was close to $30 billion. It means to get to the $10 mark, ADA's market cap has to go over $300 billion dollars which is a huge amount of money. There are only two cryptocurrencies out there that have managed to surpass the $300 billion dollar market cap, and they are Bitcoin and Ethereum.
When you put it like that, it seems quite difficult for ADA to get to that $10 mark, but if history is any indication, ADA will manage to surpass these numbers by the end of this slow market cycle and will be valued at over $10 by the end of 2025.
In 2021 ADA's main competitor Ethereum managed to attract $400 billion dollars in investment. Considering how Cardano is working on innovative new technologies, it is only a matter of time when ADA surpasses Ethereum in this race.
Cardano Roadmap
Cardano has been under development since 2015 and is following a strict roadmap. The team has not rushed any processes and is taking its time to build this sustainable blockchain. The project is being developed in the following five stages:
Byron (Foundation)
Shelly (Decentralization)
Goguen (Smart Contracts)
Basho (Scaling)
Voltaire (Governance)
Currently, Cardano is in the Goguen phase and is rolling out smart contracts. It is also going to launch its main net in the near future as the test net has already been deployed and tested. Many experts believe that Cardano might be taking a long time, but it is going to change the crypto space entirely once it is active.
How to Buy Cardano ADA?
Cardano ADA is a cryptocurrency that is available on most centralized exchanges and can be bought easily. You can purchase or trade ADA easily by signing up on one of the following exchanges:
You can also trade ADA with leverage by signing up on the following exchanges:
People who are new to the crypto space can trade by signing up on PrimeXBT Covesting. This platform allows beginners to copy trades of the expert traders.
*US Citizens can purchase or trade ADA on Kraken or Binance US only as the rest of the above-mentioned exchanges are not currently offering their services in the United States.
You can also buy ADA on decentralized exchanges like UniSwap.
Conclusion: Is Cardano a Good Investment?
Cardano ADA was among the best performing cryptocurrencies of 2021, and the above-mentioned price predictions give a clear indication that this cryptocurrency still has a long way to go. Many experts believe that out of all the top 10 cryptocurrencies, Cardano ADA will have the best return on investment.
Also, unlike other blockchain technologies out there, Cardano is building something that is different and highly efficient. With interoperability, it would be easier for projects to move from other blockchains to Cardano blockchain, which is a huge plus point.
Once the Cardano main net is live, a lot of projects will also start migrating from the Ethereum blockchain, which can give ADA a serious boost in price.